Carys Martin Ceramics
We are committed to making beautiful handmade ceramic pieces that are all unique and made with love. We believe that the things you surround yourself with should bring you joy and have worth. They should have meaning and soul, and a story to tell.
Shop Now
Our collections range from functional, everyday art to one-off pieces of art. All items are designed by Carys, and handmade over a number of weeks and fired in my studio in Cleveland in South East Queensland. The clay does not like to be rushed and needs time to dry slowly at each step in the making process. Whether hand built or wheel thrown, each piece is unique, to get the different finishes, a variety of techniques, glazes, carving and clay is used. It is these differences that make each piece individual and keep your attention and curiosity. The glazes used are lead-free and the tableware pieces have food-safe glazes.
Follow me on Instagram
Whispers From The Woods - Oracle Deck and Companion Book
Three generations of family come together, combining their unique talents and creativity to bring you Whispers From The Woods, a collection of oracle cards with an accompanying book. Marleen Morgans brings her incredible talent as an experienced artist, Jamie Martin delivers seamless tech wizardry enabling the cards to come to life on screen and Carys Martin is the artistic visionary, writer and mastermind of the project.
Drawing on a lifetime of creativity and ancestral wisdom, Carys, Marleen and Jamie have created Whispers From The Woods to bring you a touch of this very special magic.
Shop Now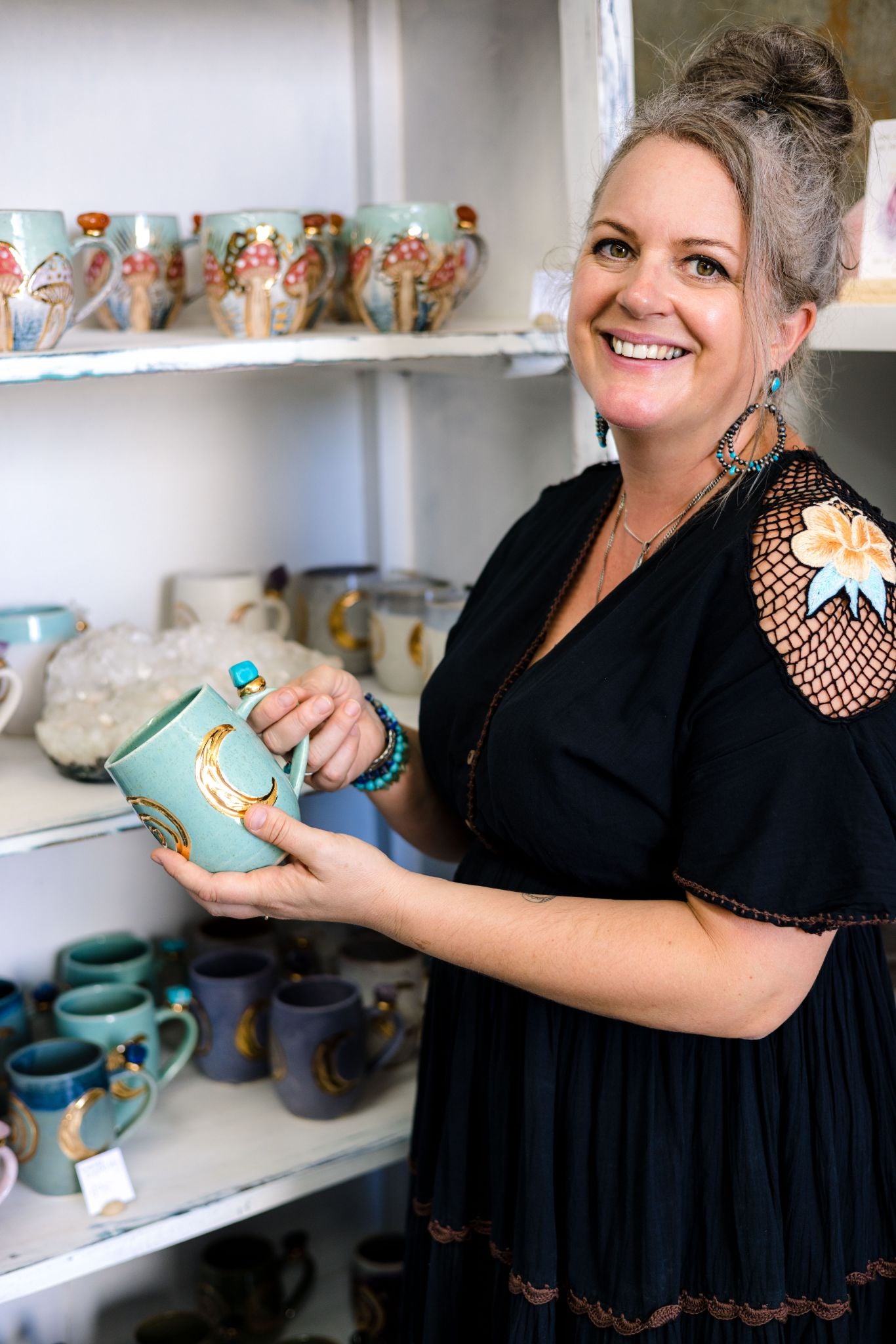 Upcoming Markets
HAND MADE LOCAL MARKET
Nov 3-5th
Exhibition Place, Bowen Hills
Details to come.
Australian Ceramics OPEN STUDIO -
Unit 11 / 7-9 Grant St, Cleveland
November 10 / 11th
See all the behind the scenes preparation!
Clay Classes At The Makers' Meet
Carys runs regular hand building and wheel throwing classes and workshops at her studio in Cleveland.
You can join her for a 2 hour workshop where she will give you the tuition and guidance to create the hand building project. These workshops have a set hand building technique at their core but allow for individual creativity in how you choose to use this technique. You can copy from an example or let your creativity free! After you have made your piece you can add decoration with tissue transfers and underglazes. Carys will then carefully dry your piece before firing and then glazing with a clear glaze before it is ready to be fired again before collection.
In her 10 week evening classes you have the freedom to take on your own projects with tuition from Carys. You can explore and learn hand building techniques as well as wheel throwing. During the term you are involved in the firing process and glaze your own work. These classes are suitable for absolute beginners as well as experienced ceramicists wanting to further their love for clay with like minded individuals.
View upcoming classes
One Cup = One Tree
We are protectors of the environment and are mindful in our making to minimise our input on the Earth. Inspired by nature, and motivated by the need to make a difference, we have a series of ceramic travel cups where we donate a portion of the sale to the organisation One Tree Planted. For every travel cup that leaves my studio a tree is planted to contribute to global reforestation. In 2020 we have shifted our planting focus to Australia to help replant the forests that were lost in the wild fires. 
We love planting trees but ultimately we want to stop the need for ancient forests to be cut down. We encourage you to join us and stand against the mass produced throw away mindset. To reduce your personal waste, say no to single use, and instead reuse and recycle. As a consumer make your voice heard by mindfully choose things that are responsibly produced, make your heart sing and hold special meaning to you. Little actions everyday, like choosing to say no to disposable takeaway cups, add up and have a big impact.